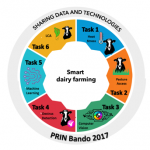 Smart dairy farming: innovative solutions to improve herd productivity
TASK 2. EVALUATING EFFECTS OF PROVIDING FREE ACCESS TO PASTURE ON PRODUCTION AND WELFARE OF LACTATING DAIRY COWS
The activities carried out within task 2 are divided into two main parts: 2.1 and 2.2.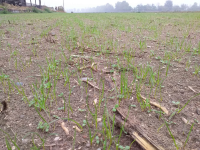 2.1 - Monitoring practices related to freedom of movement / access to external areas (with focus on pasture) and evaluation of effects on productivity and animal welfare in commercial dairy farms This activity, carried out in collaboration with the Parmigiano Reggiano Cheese Consortium (CFPR), aims to monitor practices regarding access to outdoor areas and/or grazing on a vast number of commercial farms.
Tale attività, svolta in collaborazione con il Consorzio Formaggio Parmigiano Reggiano (CFPR), ha l'obiettivo di monitorare le pratiche adottate riguardo l'accesso ad aree esterne e/o al pascolo in un vasto numero di allevamenti commerciali.
2.1.1. A questionnaire has been prepared which will be sent to around 1500 farmers operating within the area of CFPR including specific questions about:
• access to external areas (YES / NO);
• typology and characteristics of external areas (paddock, pasture, etc.);
• period and time of access (months / year, hours / day).
Based on the data collected through the questionnaire, 10 farms considered virtuous will be identified as regards the freedom of movement of cattle and access to external areas. In these farms, specific visits will be carried out by UniFI personnel. During the visits the characteristics of the farms and the practices employed will be recorded and described in detail. The results will then be presented in the form of a technical brochure to be distributed to all farmers in the CFPR. There will also be video interviews with the farmers to be disseminated on common web channels.
2.2.2. To assess the effects of free outdoor/pasture access in relation to animal welfare and productivity, some specific questions will be added to the animal welfare assessment procedure (CReNBA, which is already being carried out on all CRPR farms). This information will be matched with the data collected by the Italian DHIA (Associazione Italiana Allevatori, AIA) during the monthly herd checks (in the farms enrolled) to create a vast database containing:
- results of animal welfare assessment procedure (CReNBA)
- management practices related to freedom of movement and access to external areas/pasture;
- DHIA data on quantity and quality of the milk produced, fertility, longevity, health.
The data will then be processed to identify the relationship between the management practices of interest and productivity and animal welfare.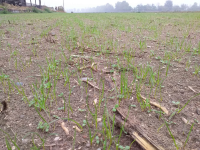 2.2 - Evaluating effects free access to productivity on welfare and dairy cows in an experimental farm
In order to obtain more detailed data, the experimental tests will be carried out on a farm with controlled conditions. The farm selected for these activities is Leso Bruno Massimo and Tiziano s.s. (Str. Paradiso, 4, 46100, Mantova) where the sowing of a dedicated pasture area (in Figure) has already been done.
For the trial, two groups will be formed randomly selecting a representative number of animals. One of the two groups (Control) will be kept indoor and fed with TMR available ad libitum. The animals in the other group (Treatment) will be housed in the same barn and fed with the same TMR as in the Control group but they will have free access to pasture. To explore the effects of different weather conditions, the experiment will be repeated at different times of the year (spring and summer). For both periods, the tests will last 10 weeks (2 weeks of adaptation + 8 weeks of data collection). Throughout the duration of the trials, the following will be monitored:
• milk quantity and composition produced, including fatty acid composition, through DHI tests;
• animal behavior, including pasture vs. indoor preference, through a dedicated sensor system;
• animal welfare and health parameters through clinical scoring;
• environmental conditions (both inside and outside the barn) via a dedicated weather station;
dry matter composition and ingestion (both erroneous and pasture ration) through sampling and analysis to be carried out in an external laboratory.
The data collected will be processed to verify the effects of free access to pasture on the productivity and welfare of dairy cows. The company identified for the experimentation will be available to be used, if necessary, as a platform to test the PLF tools developed in the other Tasks.
The project is funded within the scope of Research Projects of relevant National Interest - Call for Proposals 2017