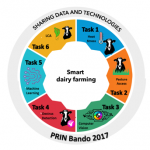 Smart dairy farming: innovative solutions to improve herd productivity
Task 1 - assessment and monitoring barns and animals
Monitoring of environmental and behavioural parameters of dairy cows is foreseen in 8 livestock farms in Lombardy.
In these 8 farms are installed:
- Environmental sensors with HOBO data logger for the acquisition of temperature, relative humidity and radiation; sensors are positioned in different areas of every barn
- Accelerometers with HOBO Pendant data logger for the acquisition of data about the standing and lying hours of each cow; sensors are installed on the hind leg of 10 cows selected in each barn
The collected, cleaned and analyzed data are used to understand the structural conditions of the barn and the behavior of the cows in response to different environmental conditions. This is done in order to understand if and how much problematic is the heat stress in dairy cows.
Furthermore, analyses are carried out in barns with genotyped cows to identify the possible presence of genotypes more resistant to heat stress, in order to be able to suggest the introduction of more resistant cows in those production contexts more susceptible to heat stress.
The project is funded within the scope of Research Projects of relevant National Interest - Call for Proposals 2017